Creating Precious Metal
Clay Jewelry
Using Precious Metal, a wide range of pure silver jewelry pieces can be molded and fired in an appropriate heating kiln.
Precious Metal Clay is a combination of pure silver particles, organic binder and water, which when burnt away leaves a solid pure silver item, it is also non-toxic and safe to use.
Precious metal clay allows the home jewelry maker to easily make pure silver hand crafted items.

There are two manufacturers of metal clay. Art Clay made by AIDA Chemical Industries and PMC made by Mitsubishi Materials.
---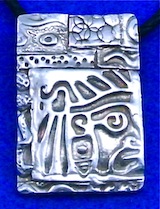 ---