Making Glass Beaded Jewelry
Is Fun
Glass beaded jewelry is one of today's most popular home jewelry making pastimes.
Creating and making your own glass fashion jewelry for yourself, family and friends is fun and rewarding.
It requires few tools and can be done on your lap or the kitchen table, you don't need much space to start glass bead jewelry making.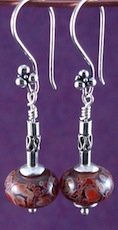 The range of beads and styles available today is amazing.
Crystals, freshwater pearls, cloisonné, glass beads, fibre optic, ceramic and gemstones are just some of the types you can work with, as well as what seems an unlimited range of metal beads.
Visit local markets and look for old jewelry pieces, there are some beautiful beads and jewelry findings you can salvage and re-use.
You don't need any previous experience or a big toolbox to make great jewelry pieces you will be proud of.
With a little experience and patience you can turn your pastime into a nice home jewelry making business.
I will be regularly updating this site with step-by-step glass beading tutorials as well as tips and techniques.
Please drop by regularly to see what's new, in the meantime enjoy your new hobby.