Jewelry Findings Hold It All Together

Pre-made jewelry findings are the pieces that hold your jewelry design together. A wide range of styles and materials can be found in stores and online.
Items made from sterling silver, gold, gold-filled wire, copper, brass, nickel plated, gold plated and silver plated metals are among the choices available.
The range of items available provides home jewelry makers with an almost unlimited choice.
For earrings there are straight headpins, capped headpins, decorative headpins and eyepins to name a few.
There are many earwire styles available including posts, french hooks, hooks, lever backs, chandeliers and hoops.
Fasteners for bracelets and necklaces include toggle clasps, spring rings, lobster clasps, multi-strand clasps and box clasps.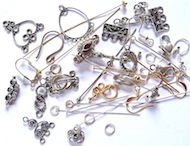 Finishing bracelets and necklaces with a clasp allows you the choice of a wide range of decorative items that will really provide a great finish to your glass fashion jewelry item.
Connectors of many styles are available that allow you to join elements of your glass beaded jewelry design together as well as separators to hold multi-link bracelet strands apart.
Using wire you can make your own fasteners, earwires and headpins to attach glass beads or other items to earrings or to bracelets and necklaces.
Twenty gauge wire is usually suitable for ear wires and headpins.A heavier gauge will be required for bracelet and necklace fasteners.



Return From Findings To Glass Beaded Jewelry

Return To Jewelry Making How To