Jewelry Craft Books And Videos For
Home Jewelry Makers
Jewelry craft books and videos are very helpful for home artists who wish to make and sell their own creations.
Unlike years ago when there were very few beaded jewelry or other jewelry craft books and videos available, today there are many books and videos to be seen in book shops or online.
Purchasing jewelry craft books or DVD's from the Internet is so easy with down loadable e-books delivered directly to your computer.
Before investing money in tools, beads findings and other beading requirements it is advisable to do some research on glass fashion jewelry to see whether this part of craft making is for you.
This is very important if you wish to make and sell jewelry.
Buying jewelry craft books or videos is an ideal way to find your way into this great craft hobby.
Whether you just wish to concentrate on home jewelry making or sell your creations to generate income there is probably a book that will suit you.
In this section are a selection of jewelry craft books, videos and jewelry courses from a number of different authors covering various aspects of home jewelry making and sales.
For something original there is a DVD on fork bracelets and for those that may want something very different a book for the budding stained glass artist.
Suggested tiles for beginners or the more advanced jewelry maker can be found here.
The Jewelry Professor offers a range of training programs and discounts for craft purchases.
Click on the item title for full details on the publication and order details.
Jewelry Craft Books And Videos
Jewelry Making Professor Education Programs
A large range of jewelry making courses and discounted beading supplies are available from The Jewelry Making Professor.
Some of the benefits for beginners and advanced jewelry artists are as follows:
• Online Video Education
• Printed Pattern Education
• Professional Training
• Beading Supplies Discounts
• E-Commerce
• Free Videos
Free courses for beginning jewelry makers can be found here as well as specialized programs for the more experienced jewelry artist.
A thirty day free trial enables participants to fully evaluate the benefits of the Jewelry Making Professor Education Program.
Click on the large banner for further information.


Guide To Your Profitable Jewelry Booth by jewelry artist Rena Klingenberg.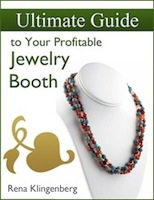 Secrets Of Selling Handcrafted Jewelry Like Crazy At Shows, Fairs, And Festivals.
There are hundreds of things you can do to make a tremendous difference in your success and income at shows, fairs, and festivals.
It's the step-by-step guide to help you succeed in selling your handmade jewelry at shows.
This 176-page book is loaded with proven strategies, tips, and years of experience that you won't find anywhere else!
Start Your Own Jewelry Party Business by jewelry designer Lorri Ely.
A comprehensive guide, with step-by-step instructions on how to create your own home jewelry party business.
Proven tips, tools and tactics for you to get started building your home based business today.
In this complete guide are many tips, techniques, and secrets on how you can make your own business profitable and successful.
Beading And Jewelry Making Home Based Business.
Secrets to making money from jewelry and beading. Resource package contains e-book, audio products and bonus material for starting your own home based business.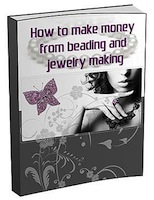 Make the decision today to discover all the answers to starting your own jewelry making business.
You'll be glad that you did.It's Now Easier To Start Your Own Home Based Jewelry Business Than Ever Before.
Jewelry Selling Secrets, Start A Jewely & Craft Business From Home.
Kameron Kay shows you the insider secrets to making jewelry & crafts and selling them to boutiques, shops, artist fairs, bead shops, and more.
Perfect part time job and income for stay at home moms, college students, or anyone wanting to make extra money.
You will have full access to my online jewelry community where you can share ideas and gain insider tips from other artists and industry experts.
We are more than happy to guide you along, and lead you towards your very own successful jewelry business.
Jewelry Selling Secrets is an electronic book and audio program that you can listen to and read instantly on your computer.
How To Make A Killing Selling Bead Jewelry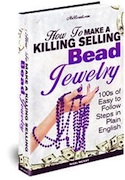 Ultimate guide revealing proven steps to successfully sell beaded jewelry.
169 jam-packed pages of the latest 2010 jewelry selling secrets.
Everything you ever wanted to know profiting from handcrafted beaded jewelry - including how to source at the lowest prices.
See your income soar from new profit sources. Instant results! Dynamic growth potential.
Everyone wants extra income. You'll feel great when your custom jewelry brings in thousands of extra dollars.
It's easier than you think, and this straightforward book shows you how.
Now is the time to make money from your handcrafted jewelry.
Bead Manager Pro: Jewelry Inventory Software.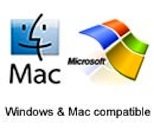 Bead Manager Pro will save you time and money. With fully automated inventory and pricing of your jewelry pieces you will always know what's in stock and what to charge.
Having instant access to support is important. With the full color manual that you receive with Bead Manager Pro and over 2 dozen online video tutorials we've got you covered.
Wire Work Secrets For Jewelry Makers
Pro jewelry making tips, techniques, and secrets to quickly end frustration with wire work.
Based on hundred of questions gathered from passionate hobbyists looking for solutions to wire frustrations.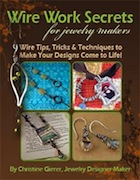 You learn the lessons that are skipped over in other books and magazines and videos.
You learn the fundamentals so well that you don't have to think about them anymore.
No matter how frustrated you've been in the past, or how much of a beginner you are, I guarantee you'll make effortless, frustration-free Wire Work jewelry.
Maryann Cherubino is a professional jewelry maker and has been practicing and perfecting the art of making fork bracelets for years.
Residing in eastern Pennsylvania, her craft is making it's way up and down the entire east coast.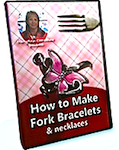 Each one of her bracelets are made by her own hands and crafted in a unique way, specific to how she wants each particular bracelet to look.
Her creations cause people to remark wherever and whenever she wears them in public!
This "How To" product was created so you can also experience the joy making something beautiful and having people be amazed that it was created by YOU!
And you CAN do it. Special care was taken in the making of these videos so that NO step was left out and that anyone will be able to make their very own fork bracelets if you just follow the steps in the videos.
Available for immediate download or purchase the DVD!
How To Make Modern Stained Glass Windows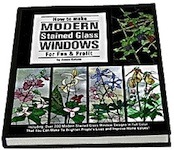 What was once just another window can now be a jaw-dropping work of art.
Homeowners today are replacing ordinary windows with museum-quality artwork made of glass and metal… artwork that is breathtaking in design and in the number of colors, shades, and styles of glass.
For more than 122 years, the same stained glass factory that made art glass for Louis Comfort Tiffany's famous windows and lamps still manufacturers amazing art glass today... right here in the USA, in Kokomo, IN. (The Kokomo Opalescent Glass Factory)
Learn how homeowners are adding thousands of dollars to the value of their homes, while adding attractive and valuable original art into their homes… art that lasts hundreds of years, and is enjoyed immensely by the family members and friends who visit the home.
This book was assembled to show the world how beautiful modern designed stained glass windows of today are
The majority of homeowners have no idea of how the art form has evolved, and how breathtaking the new styles of designs are that now are being incorporated into homes and commercial structures by art savvy people that are 'in the know'.
And it's easy to do yourself, if you want to!


Return From Jewelry Craft Books To Jewelry Making How To