Chain Maille Jewelry
Chain maille jewelry patterns and ideas can be used to create delightful patterns that are lovely to look at and wear.
There are many traditional chain maille weaves as well as numerous original designs from talented chain weavers.
Using links of gold, gold filled, sterling silver, anodized aluminum, niobium, copper or colored neoprene rings lovely lightweight pieces can be easily made.
With the availability of pre-cut links and kits today all you need to start are two pairs of pliers.
You will find many ring and kit suppliers' online offering a number of different kits.
The kits come with full instructions, which allow you to produce great pieces of jewelry.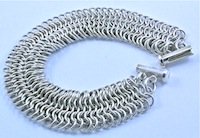 Suppliers:

Urban Maille is a long standing supplier of high quality rings and kits. A great range of rings can be purchased here.

This site is a treasure trove of designs and information with great photos of weaves and rings.
The Ring Lord is a large site with a range of rings and accessories for the creation of many custom pieces. Not only kits for sale but different wire coils are avaiable for ring making.
Blue Buddha Boutique is another great site to visit with many kits, accessories, tutorials and tools on sale.
Well worth taking your time to see what this site has to offer.
Aussie Maille supplies high quality rings, kits and accessories to the Australian market.
Ring Shapes:

Over time ring desgins have changed due to new wire profiles and tooling.
Profile shapes of round, square, diamond, half round, twisted, and multi strand can now be purchased.
Some of these shapes can be mixed in a woven piece giving a totally original jewelry piece.

---
---
Glass Beads
Craft weavers are using a range of handmade glass beads, fused glass beads, dichroic beads, Swarovski crystals, precious metal clay and gemstones combined with sterling .925 to make stunning woven items.
Fused glass cabochons set in silver metal clay are used as a striking focal bead in some or as a necklace focal bead.
Sterling Silver SS .925 bracelet weaves can be made so light and flexible that you hardly know you are wearing them.
So slinky and elegant, a real fashion statement.
The bracelets on this page have been made from sterling silver links that have been cut using a jewelers flexshaft and a Jump Ringer System Standard cutting system.
Patterns And Tutorials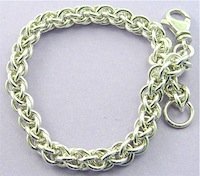 A number of online stores have downloadable patterns and tutorials for sale along with rings.
Some of the more popular weaves are Byzantine, Box, European 4-in-1, European 6-in-1, Flower, 2-in-2 weave, 3-in-3 weave, Jens Pind & Half Persian 4-in-1.
Beautiful items can be made for a reasonable cost.
With practice you will find you can produce lovely pieces in a very short space of time.
Most weaves are repeating patterns that continue until the item is finished.
Bracelets, necklaces, anklets & earrings can be finished with hand made clasps or a wire range of toggles and catches.
---
Chain Maille Articles

Pre-Made Rings

Opening Jump Rings

Using A Coil Winder

Cutting Chain Maille Rings

Cutting Links With A Jewelry Saw

Colored Links

Jewelry Wire

Cutting Jump Rings

Gold And Silver Wire

Jewelry Findings

Soldering Sterling Silver

Antique Finish

Cleaning Jewelry
---
---
Return To Home Page
---
---