Multiple Fused Glass Pendant
With Colored Center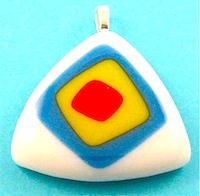 Make a multiple fused glass pendant with a multi-colored stacked art glass center.
This art jewelry pendant is kiln formed in a Creative Paradise fusing mold that can produce two pendants 1.75 inches wide.
The mold is filled with small pieces of white glass and medium frit, it is then fused in a glass kiln.
Once fused and cooled three small pieces are stacked on the pendant and it is then fully fused again in the glass fusing kiln to produce a multiple fused pendant.
A second fusing is required as firing the pendant and stacked layers in one go usually results in the stacked pieces melting down and being partially covered by the white base.
Spectrum products have been used for this item. Bullseye may also be used. Colors can be varied as desired.
---