Multi Media Pendant With
Resin Coated Decal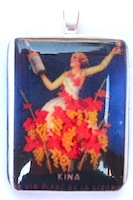 Multi media pendant with softly rounded edges to which a resin coated decal is applied. It has been contour fused to retain much of its original shape.
Due to the transparency of the decal it must be applied to a light colored background such as white. You can experiment with this as some colors may enhance the decal colors.
Dark glass is generally not suitable as all the decal details will be lost. For contrast you can fuse a dark color base to a light color layer and apply the decal to the light glass.
This pendant has a black base fused to a white upper layer.
A waterslide decal from a sheet designed for use with polymer clay has been used, unlike glass fusing decals these are not made for fusing in a warm glass kiln.
There are a large variety of decals available. For this project I used Lisa Pavelka Signature Series transfers.
The multi media pendant is finally coated with clear resin for protection and to give it a high gloss finish
---