Using Glass Fusing
Decals
Using glass fusing decals adds extra depth and colors to fused glass jewelry. Applying decals is a fantastic way of expressing your creative side.
There are many commercially available fused glass designs and an even larger number of ceramic designs which you can use in your glass jewelry items and fused glass pieces.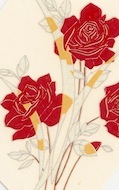 There are two types of decals– High Fire and Low Fire.
High fire can be sandwiched between two pieces of glass and fired to full fuse in the glass kiln. The low fire transfers are applied on top of a fused piece and are fired up to 1000 F.
Most ceramic transfers can be treated the same way as low fire glass ones although I have had some success with using them in high fire designs.
It's all a matter of experimenting. Fortunately they are not very expensive.
---