Glass Frit Blends
Glass frit blends offer a wide variety of colors for use in fused glass jewelry. Blended frit can be made from scrap glass or purchased in a wide variety of blended colors.
Frit blends are widely used by glass bead makers and are available in COE 90, COE 96 and COE 104 glass. Blends are available to match the four seasons, with many variations of color within the seasons. Forest, floral, landscape and seascape blends can also be purchased
The blends in the photo are COE 96 and represent a very small sample of the glass available. This glass is an ideal size for fused glass jewelry making.
This type of glass is not cheap but not much is needed to produce an original fused glass jewelry design.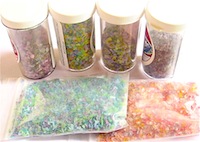 ---