Blended Fused Glass
Frit Pendant
This fused glass frit pendant is made from white System 96 and multi-colored frit blend normally used by bead makers. The blend is produced by Glass Diversions who have a range of mixes in different COE's.
Earrings can also be made this way, there is no set size for making these fused glass items.
This project was madecin an Evenheat Studio Pro tabletop fusing kiln with an infinity switch.
I have not tried them in my other computer controlled kiln, depending on the top temperature there is no reason why they can't be made in a computer controlled kiln.
To fuse this project you will need to take the fusing temperature above 1600 degrees F to achieve the end result.
At this temperature the frit will melt and flow across the pendant surface.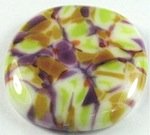 ---