Striped Glass Pendant
Flipped And Fired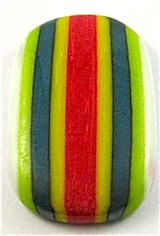 How to make a striped glass pendant using separate fusing glass strips, fused and ground to final shape, fused again with top and bottom surfaces reversed
When fusing strips, the upper surface may become distorted and the shelf side remain straight and even but without the gloss of the upper surface.
This can be seen in the series of photos further below.
This should be planned for by ensuring that the shelf is nice and even. If primed, smooth surface by gently rubbing with a pair of old panty hose or very soft cotton cloth.
Thinfire paper can be applied after this if desired.
Thinfire paper may also be used on a bare shelf.
The reason for trying to get a very smooth surface is to prevent the bottom side picking up unwanted marks from the shelf.
During the first fusing, the sides of the pendant are held in place be two kiln washed kiln posts or ceramic strips.
As part of the process the fused glass jewelry pendant will be ground to its final shape, then flipped and fire polished with the bottom surface uppermost.
This should result in a shiny and even surface.
---