Fused Spectrum Glass Dish

A fused Spectrum glass dish made from System 96 fusing glass.
The dish is made from black, clear and opal art glass fused and slumped in a glass fusing kiln.
A clear glass circle forms the base with black glass "bookends" and opal art glass in between.
This dish has been modified from an original Spectrum glass design.
Dimensions and colors can be altered to suit fusing mold and design choices.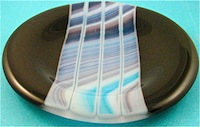 ---