Using Slumping Molds To Produce
Fused Glass Jewelry
Fused Glass slumping molds can be used to make a large range of fused art glass jewelry.
Using slumping molds glass is placed on or in the mold and heated in a glass fusing kiln until the glass sags into or over the mold.
There are many glass fusing molds available, with plates and platters being very popular and widely available.
When fusing plates or platters usually the basic design is first fused in the kiln, and when cooled placed on a slumping mold and heated to about 1200 F to 1300 F for slumping to occur.
Fused art glass jewelry may only require one firing, subject to the design and type of glass being used.
Prior to firing, molds must first be coated with kiln wash to prevent the glass sticking to the mold during the glass fusing process.
Always ensure the mold is completely dry before use.
Fused glass jewelry molds are becoming more readily available with an ever-increasing range coming onto the market.
Many of these are for frit casting; however, there is a range of cabochon and other molds that allow small glass pieces to be layered into the mold for fusing, allowing dichroic glass jewelry or a combination of dichroic and fusing glass jewelry to be made.

Pattern bar molds, which come in various sizes, and are usually U shaped, allow strips of glass to be placed in a pattern and then fused to form one solid piece of glass producing a unique design.
These bars are usually cut with a tile saw into thin slices.The slices can be placed into glass jewelry and then fused or used in other glass fusing designs.
Similar to this are murrini molds, which are a series of grooves on a mold, which are filled with glass strips or stringers and then fused.
These are up to 1/2-inch square and are cut and fused into your fused glass design.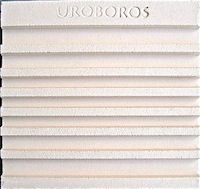 Slumping molds for hair barrettes are very simple, requiring only for the glass to be slumped and a pin back added and you have a lovely hair clip.
Many artists use a combination of dichroic and fusing glass to produce these.
Barrette molds come in ceramic or stainless steel as well as oval frit casting molds.
Stainless steel must be heated to about 400F to 500 F and kiln wash brushed or sprayed onto the hot mold. The mold must be heated to ensure the wash sticks to the mold.
As an alternative Boron Nitride release spray can be used on the steel, there is no need to heat the mold for this.
Always check the maker's instructions as some sprays have a maximum fusing temperature of about 1400 F. Some sprays work up to about 1800 F.
Always place your molds on kiln posts in the glass kiln. This will allow for good air circulation around the mold during the glass fusing cycle.
Current jewelry molds on the the market will allow you to make a large range of art glass jewelry ranging from fused glass earrings to fused art glass bracelets.


Return From Slumping Molds To Glass Fusing

Return From Slumping Molds To Jewelry Making How To