Slumped Fusing Glass
Dish Hand Painted

A small slumped fusing glass dish painted with glass powder fused and then finished in a steep slumping mold.
This fused art glass painted dish has been made from two pieces of fusing glass, one of which has been painted with glass powder frit and then fully fused to a clear base.
After fusing the glass was then deeply slumped in a small dish mold.
You can use either COE 90 or COE 96 glass; Coe 96 glass and powder were used for this tutorial.
Size and colors can be altered to suit your design choices.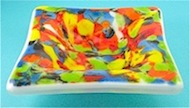 ---