Kiln Carving Shapes
Into Fusing Glass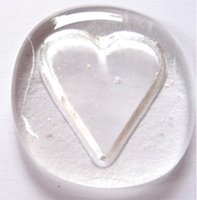 Kiln carving is a process whereby a pattern is 'carved' into glass during the glass fusing process.
By placing an object between the kiln shelf and the bottom of the glass an impression of the object will be left in the glass.
One of the favored methods is to use a cut out shape of fiber paper under the glass. The heat from the fusing process will cause the glass to slump around the paper.
This is an excellent way to produce individual art glass pendants and other fused glass jewelry pieces, which can be painted from the inside, or have colored resin poured into the impression.
---
---
The photo below shows the completed fused piece with the fiber paper still in the bottom of the glass.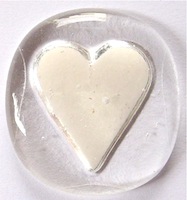 This photo is a rear view of the piece with the fiber paper removed.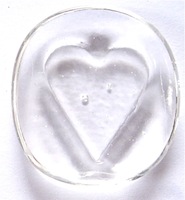 Sometimes the rear of the glass can be quite dull from the fusing process. It is possible to achieve a shiny surface by turning the glass over and firing to fire polishing temperature.
Clean and dry the glass before firing. Bring up to fire polishing temperature and hold for a minimal time, over firing or holding at a high temperature will affect the carved det
Sealed photos, stickers, and fancy paper can be set in the impression and covered with resin.
Use Mod Podge or white glue to seal printed objects to prevent the ink running before covering with resin.
Another simple method is to mix a thick paste of kiln wash and place into a plastic bag, make a small hole in a bottom corner of the bag and use it like a piping bag to pipe some lines or a design on the kiln shelf. A large syringe can also be used.
Make sure the lines are even without any sharp peaks.
Do not place your lines too close together or the glass may crack.
Use clear or light colored transparent glass for this process.
---
Return From Kiln Carving To The Glassworks
---
Return To Home Page
---
---
---