Hot Glass Combing
Ideas for hot glass combing in a saucer or stainless steel mold at high temperature in a fusing glass kiln.
The techniques, tools and safety preparations outlined here are the same as those on the glass combing page, please refer to this page for further glass combing information.
Unlike the preparation and kiln set-up on the glass combing page this hot glass combing example does not use strips but relies on scraps of glass placed in a saucer or mold.
A terra-cotta saucer has been used to contain the scraps for this project.
The saucer must be heavily kiln washed as it will be exposed to high temperatures in the glass fusing kiln.
Good quality terra cotta should be used as inferior saucers may crack.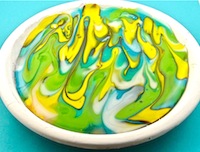 ---