Using Glass Tile Saws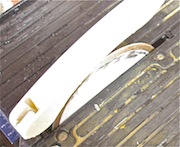 Glass tile saws will cut thick slabs of fused glass such as pattern bars and pot melts for use in other glass fusing projects. Although only capable of straight cuts they are quite useful in a number of glass fusing operations.
If you intend to make pattern bars, pot melts, combed glass or other thick fused glass items then a tile saw is ideal for straight cutting or slicing of kiln fused glass which can only be saw cut.
There are some saws that are very expensive but are not really suitable for home use. Before purchasing a saw you need to think about what glass sizes you wish to cut as you will need to match the saw to your cutting thickness.
These saws can cut sizes that ring saws and smaller band saws have great difficulty with. An eight-inch blade will give you a lot of flexibility in your glass cutting.
---