Glass Ring Saws
Glass Ring Saws will cut intricate fused glass and stained glass shapes and designs.A ring saw can cut slightly tighter curves than a band saw.
Glass ring saws are very popular saws with glass art jewelry makers, fused glass artists and stained glass artisans due to the ability of the saw to cut complex shapes.
These saws have a large rigid round diamond coated ring that allows glass to be cut in any direction. Ring saws can be used for fused glass, stained glass and other types of art glass.
Certain ring saw will cut glass, tile, ceramic and stone. Like band saws ring saws are water cooled with an attached water reservoir. A feature of some saws is the ability to detach the motor and cutting head for use anywhere.

Ring saws from some makers can be ordered as a standard 110 volt model or international voltage of 220 volts.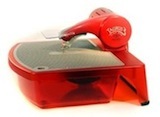 ---