Glass Confetti Shards
Glass confetti shards are very thin pieces of colored glass, which can be added to your glass fusing projects.Traditionally, it is made by blowing a very thin glass bubble which breaks as the size of the bubble increases.
Small pieces can be used quite nicely in fused glass jewelry as well as in larger fused glass pieces.
Confetti Shards are very delicate and are used as design elements on fused glass pieces. It is quite often fused between pieces of art glass.
It is sometimes used to shade or blend colors.
It is commercially available in containers of a single color or as a selection of various colors.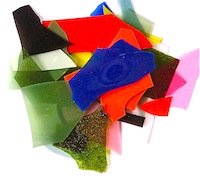 Shards can also be made in a warm glass kiln.
The photo below shows a glass vessel that has been stretched in a glass fusing kiln.
A drop ring mold is supported on fire bricks so that the mold is located near the top of the kiln.
The vessel was made by placing a piece of fusing glass over the drop ring mold, the glass was then brought up to fusing temperature.
As the glass softens it begins to drop through the mold until it reaches the glass kiln floor.
By using the correct amount of glass a very thin vessel will be produced.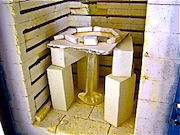 When cool it will be removed from the fusing kiln and gently broken up to produce confetti.
Whilst this is a large fusing kiln the same process can be carried out in a smaller kiln.
By using this method a collection of different colored confetti shards can be made.
---
---
Return From Pate De Verre To Fused Glass Glossary
---
Return To Home Page
---
---
---