Making Fused Glass
Christmas Trees
Fused glass Christmas trees made from a few pieces of fusing glass and contour fused in a glass fusing kiln.
This simply designed Christmas ornament can be made in a number of ways with the fusing glass colors being changed and other decorations added.
Pieces of scrap glass are ideal for making these trees.

Fine white glass frit is scattered over the trees to give the appearance of snow.
Silver or gold mica can be sprinkled over the trees for a sparkly finish.
The sample trees are very small but can be easily increased to a larger size.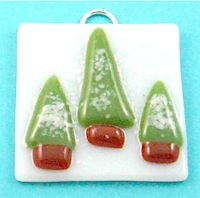 ---