Fusing A Glass
Candle Bridge

A fused glass candle bridge kiln formed and slumped in a glass fusing kiln.
This fused glass bridge is made from Bullseye Streaky and clear fusing glass.
Various colors can be used to the construction of a candle holder.

After being fully fused the glass is then slumped in a Bullseye glass slumping mold.
Different size candle bridge molds are available, including molds that have multiple candle holders.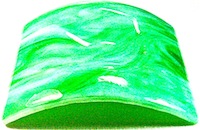 ---