Slumped Fusing
Glass Plate
A fusing glass plate made from System 96 Nautica glass and one piece of System 96 white
The pieces are cut into circles, fully fused and then slumped into a plate mold.
A five inch diameter slumping mold is used for this plate.
This design style allows for different size slumping molds to be used.
Colors can be varied, transparent glasses will produce very striking results.
The use of paints and decals will result in very original
fused glass plates.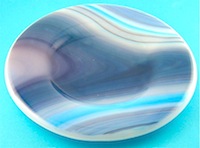 ---