Your Headline
A fusing glass frit pendant fired at high temperature in a glass fusing kiln. High temperature is needed to ensure the frit flows across the base layer.

This item is made from System 96 white, and medium grade frit blend normally used by bead makers. The base is two pieces of white topped with frit and fired at a high temperature in a tabletop glass fusing kiln.
To fuse this piece you will need to take the kiln temperature above 1600°F to achieve the end result. At this temperature the blend will melt and flow across the surface.
The end result should be a nicely blended colored surface on the pendant.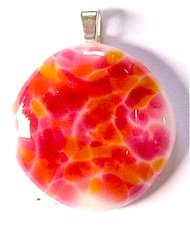 ---