Make a Fusing
Glass Bead
A fusing glass bead made from four strips of glass and fired in a glass fusing kiln. A piece of fiber paper is used between the layers to make a stringing hole.
This bead is simple and quick to make. Plain opaque glass has been used for this example but multi colors can be used.
It will be seen in the lower photo that the upper layer is smaller than the base and when fused will melt down onto the strips and the base.
This type of bead can be made with two stinging holes for multi-strand designs.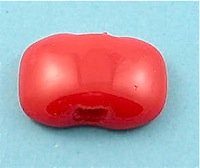 ---