Fused Glass Stacks Multi
Colored Pendant
Creating fused glass stacks from multi-colored layers to form an art glass jewelry pendant.
To make the pendant the layers are first fully fired and then fired again on a clear base.
The layers may be contour fused to retain some of their original shape.A single layer can be used for the base if the entire item is contour fused.
This glass fusing tutorial can be altered to suit different sizes and colors as well as using a number of kiln working techniques.
System 96 has been used for this project.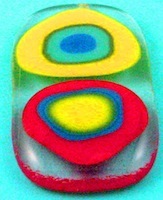 ---