Open Weave Fused
Glass Plate
Transparent fused glass plate in an open weave style laid on a clear base and then fused and slumped in a glass fusing kiln.
This plate is made from a number of colored transparent strips and clear glass.

Either COE 90 or COE 96 can be used to make this plate.

Size, colors and number of strips can can be altered to suit design choices and slumping mold size.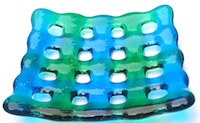 ---