Fused Glass Inclusion

Pendant
Making a fused glass inclusion cut from thin copper sheet and fired between layers in a glass fusing kiln.
The dragon shape has been cut with a scrap booking shape punch. These punches work very well on thin copper sheet; there is a large selection of cutter styles available.
Scrap booking punches are also good for making fiber paper designs for kiln carving. Thin sheets can also be cut with scissors as well.
When fusing inclusions between layers, thin material should be used otherwise the glass will break. To prevent the copper from being ruined from exposure to direct heat it needs to be protected by a clear cap.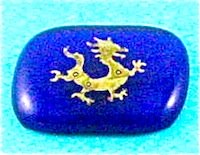 ---