Making A Fused
Glass Brooch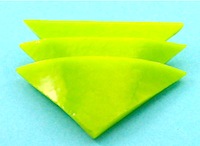 A fused glass brooch made from three pieces of fusing glass with an added pin back.
This is a very simple fused jewelry design which can be made as a brooch or have a bail fitted to turn it into a pendant.
The same size triangles have been used in this design, different sizes can be fused so that a stepped look can be achieved.
Colors may be varied to produce a colorful design.
The triangles can be offset to produce a very different item.
The object of this exercise is to provide a basis for original colors and designs to be used.
Dichroic pieces will make a great addition to this style, contributing to an original item.
This object was made with an infinite control switch tabletop kiln.
To make this brooch the following items will be needed:
Two 11/2-inch squares of fusing glass.
1/8-inch fiber paper.
Cutter.
Pinback.
Prepared kiln shelf.
Fusing kiln.
Proceed as follows:
Step1. Cut squares into triangles.
Step 2. Place bottom triangle on shelf and add second triangle.
A small length of fiber paper is added under the tip of the second triangle.
Repeat the process with the last triangle.
If you wish the outer tips of the triangles to remain straight fiber paper can be added here as well.
| | | |
| --- | --- | --- |
| | | |
| Squares cut into triangles. | Small piece of Fiber paper added under tip of second triangle. | Another piece of fiber paper is added under tip of last triangle. |
Step 3. Place shelf in kiln and bring temperature slowly up to about 1100° F (312° C). Check to see if the tips of the triangles have begun to slump, turn kiln off if satisfied.
To achieve a contour fuse temperature may need to be increased slightly.
Care should be exercised with temperature settings as the tips can overheat very easily.
Step4. Allow kiln to cool to room temperature before removing item, a pin back can then be fitted to the rear of the piece.

A bail may be fitted instead of the pin back if a pendant is required.



Return from Fused Glass Brooch To Glass Jewelry Projects

Return To Home Page