Make A Fused
Glass Bead
A fused glass bead can be easily made in a fusing kiln using two pieces of glass.
As only two glass pieces are used cutting and assembly is very quick.

A length of fiber paper is used between the layers to make a stringing hole.
Plain colors has been used for this example but different colors can be used to make a multi colored item.
It will be seen in the following photos that the upper section overhangs the base and when fused will melt down onto the bottom layer.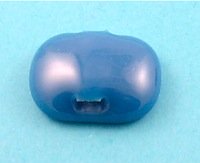 ---