Glass Fused Dichroic
Brooch

A fused dichroic brooch with kiln carved opening for pin back, inset with length of wavy dichroic firestick.
This is a simple fused brooch that can form the basis for a number of design choices.

As it has only a few pieces it is very simple to cut and make.
Black accordion glass has been used for this project; other base colors and different dichroics can be used if so desired.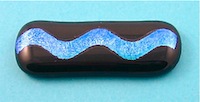 ---