Fused Colored Glass
Transparent Pendant
This fused colored glass transparent squares pendant is a very easy glass fusing jewelry item to make.
It is a very simple pendant to cut and assemble. There are only two sizes used in this piece.
Scrap pieces of glass can be used to form the squares.
If you wish you can use pieces of clear dichroic matched against the base color.
This contoured fused design allows for different sizes and colors to be used, opaque colors or opaque and transparent can be combined.
The sizes used in this tutorial allow for an even spacing of the colored transparent pieces.
System 96 has been used in this project.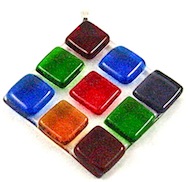 ---