Easy Fused Colored
Dots Pendant
Fused colored dots pendants are one of the easiest items that you can make in a warm glass kiln.
This type of pendant is very simple to cut and assemble.
Scrap can be used to form the dots, small amounts of colored frit may be used rather than scrap pieces.

If you wish you can use scrap pieces of dichroic matched against the base color.
Either Bullseye glass or System 96 can be for this fused design.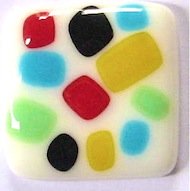 ---