Use Embossing Stamps To Stamp Designs In Hot Glass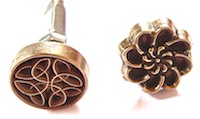 Embossing stamps are used to stamp designs in hot glass during the glass fusing process.

Stamps can transform a plain piece into a decorative item, paticuilarlyc when used on dichroic glass.

Heating glass to the right temperature will allow you to twist, shape, and mark it in many ways.
Using an embossing stamp you can stamp a design directly onto hot fusing glass. There are a large variety of stamps available at the moment that are suitable for this process.

---