Dichroic Glass Adds Sparkle To
Fused Glass Designs
Ideas for using dichroic glass in fused glass jewelry and other fusing processes.
Dichroic is being used more and more for making fused glass jewelry. Combined with Precious Metal Clay (PMC) for example, dichroic glass cabochons form a brilliant piece of jewelry.
Jewelry makers are using this glass to make pendants, bracelets, earrings, necklaces and other forms of jewelry.Flame workers use it to make fantastic handmade beads. The world-renowned Murano bead makers also use it.
---
---
Originally from NASA as part of the space effort it is is a base glass coated with a special metallic coating. It is very difficult to accurately describe and photograph this glass.
When fused in a glass kiln amazing color shifts take place. Once taken out and exposed to light the glass has a depth of shimmering colors unmatched by any other type of glass.
It can be combined with other pieces of dichroic and fused together.
This glass has a coated and uncoated side, the coated side cannot be fused against the coated side of another piece of dichroic as it will not fuse properly, coated and uncoated sides go together.
Sometimes it is difficult to tell the coated and uncoated side apart. Take a pointed object such as a pen and hold this against the glass if the reflection of the pen touches the glass and there is no gap then this is the coated side. If there is a gap in the reflection between the glass and pen then this will be the uncoated side.
Dichroic can be fused with compatible fusing glass; fusing temperatures are usually the same as used for normal fusible glass.
If you wish a clear cap may be fused over fired dichroic, this will not only protect the glass but will act as a lens giving the glass a great depth.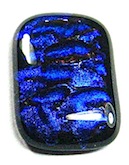 Dichroic fusing glass is produced in COE 90 & COE 96 & the same rules apply about not fusing different COE's together. COE 90 and 96 COE cannot be fused together as they are incompatible with each other.
Dichroic is available in a wide range of colors and styles. It is possible to purchase special etched patterns and sizes to suit your designs.
It comes on a black or clear glass base.There are no hard and fast rules regarding the use of dichroic in designs, it is a case of your own imagination and color sense.
---
---
Return From Using Dichroic Glass To Art Glass Jewelry
---
Return To Home Page
---
---
---