Fused Dichroic Glass
Jewelry Pendant

A dichroic glass jewelry pendant made from dichroic and fusing glass squares.
This fused item is a very simple design that can be changed to suit different colors and design shapes.
Many fusing ideas are based on this design approach enabling various creative shapes and styles to be easily produced
Using just two squares of glass this project can be cut and fused very quickly.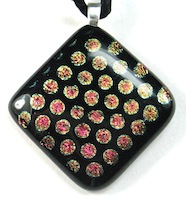 ---