Make A Dichroic Glass
Cabochon Pendant
A fused dichroic glass cabochon pendant made from black base ripple dichroic and a clear cap.
A number of issues may arise when capping a piece of dichroic.
Capping:

Sometimes the base may seep out from under the cap, although you have a larger cap.
This is usually caused by the capping piece not fusing to the edges of the base, as a result the base spreads out past the edge.
Prior to fusing remove some of the dichroic layer on the edges, this will allow the cap to fuse to the base layer before it begins to spread.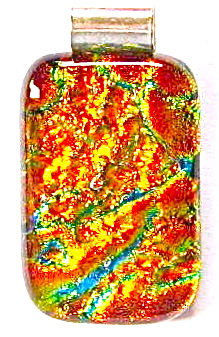 ---