A Contour Fused glass
Dichroic Pendant
Make a contour fused glass dichroic pendant with varying dichroic shapes.
This item is a very simple design that can be changed to suit different colors and design shapes.
Clear dichroic fused to a clear base will provide an alternative to a black glass creation.

The dichroic pieces can be any random shape.
The pendant will be contour fused to ensure that it retains its basic shape with nicely rounded edges.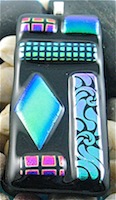 ---