Make A Cast Glass Confetti
Bubble Pendant

A fused cast glass confetti bubble pendant, made from three layers of glass.
The combination of medium frit and confetti inclusions will produce many bubbles during the glass fusing process.
Do not use fine frit as it will produce too many bubbles and make the finished item appear cloudy.
The finished heart will be 1 3/4 inches wide by 2 inches long.

The mold is from Delphi and is originally supplied with a post in the left hand corner to produce a mounting hole.
Unfortunately, this style of mold can result in the fused glass sticking to the post and ruining the mold.
Before use, the post can be removed by using a craft knife to cut down the sides of the post until it is thin enough to remove.
The bottom can then be smoothed over by sanding.
Bullseye glass is used for this project.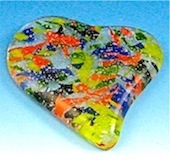 ---