Clear Bubble Powder
Pendant

How to make a bubble powder pendant using clear fusing glass and bubble powder.
This fused glass bubble powder pendant is made from two pieces of fusing glass with clear bubble powder between the pieces of glass.
For this project clear bubble powder is used.
Colored bubble powder can be purchased and will fuse the same as clear powder.
Copper oxide powder may be used, it will produce a turquoise finish on clear glass.
It is a very simple fused glass pendant to make and is quite unusual when finished.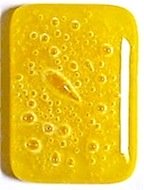 ---