Using E6000 Glue On Fused
Glass And Metal Findings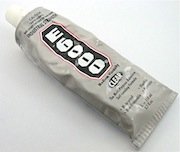 E6000 glue is used on glass, ceramic and metal jewelry findings and is widely used in jewelry making.
E6000 glue is a long time favorite of beaded jewelry makers and other jewelry artists.
It works very well for attaching metal findings to fused glass jewelry items. It will attach wire, threads, pendant bails, jump rings etc to art glass jewelry pieces.
This glue offers exceptional adhesion to glass, ceramics and metal findings it is acid free, flexible and can be painted. It will harden to a waterproof cure in 24 hours.
---
---
Attaching a bail to a fused glass pendant is very simple with this glue.
Make sure the surfaces are clean, dry and free from dirt.
Roughen the surface of the glass and the surface of the bail before applying glue.
Using a toothpick apply a small amount of glue to the area where you wish to attach the bail and also a small amount to the bail.
Wait 2-10 minutes and press surfaces together a small amount of glue should come out and form a nice bond between the bail and the glass.
If too much glue comes out, wait an hour then remove excess with tooth pick.
The same process applies to cabachons, glass earrings or applying pin backs to brooch or barrettes.
The key to using this glue is to make sure that you do not disturb it for at least 24 hours or more so that the glue sets properly and the pieces are not shifted out of place.
After 24 hours you can check the bond and add some more glue around the base of the join to produce a neat flat filigree join.
Glue and set pieces should not be placed in a glass kiln, as it will not withstand the extreme heat of a kiln.
Oven Setting
An extremely strong setting can be achieved by hardening glued items in a small oven. Glue is applied as explained above and the item left to set overnight.
The set piece is placed in a oven, pre-heated to 275degrees, and left for thirty minutes.
The oven is then switched off and the piece left to cool naturally, this method will result in a very strong bond.
Please ensure than the jewelry piece will not be distorted by the oven heat.

---
---
Return From E6000 Glue To The Glassworks
---
Return To Home Page
---
---
---